Valiant Jean Green Cast
$315.00
Our jeans are a great cut with different leg shapes and pocket detail. The prewash process we follow tempers the fit. We keep stringent records on the cloths we are running and can direct you to looser, firmer and more tapered cuts. All pre-washed - good to go. 

Valiant Jeans have a straight leg and a regular jean patch pocket with our signature tidy welt detail which can handle those wallets - if you must!
These darker shade of blue denim are classic with a twist. The base of the twill (usually off white or golden) has an olive-green wash. We have matched this with olive stitching refreshing the old-gold stitched look. 
A classic jean, in a quality denim 12 oz - no stretch denim, you need to wear them in. Feel great, no fuss classic with quality cloth and make. And.. you can get yours cut. Terribly efficient shopping. 
We can pair these with a fair bit of organic cotton knit basics this winter too. 
Sadly, The this fabric has come to an end. This is the last remaining stock.
Proudly designed and made in Wellington, New Zealand.
Size Guide
---
Beretta Jean Marine
$340.00
Beretta jeans have a nod to 90's leg, with a way better bum than those times.  This cut is not for all but will look great on some and offers...
---
Size Guide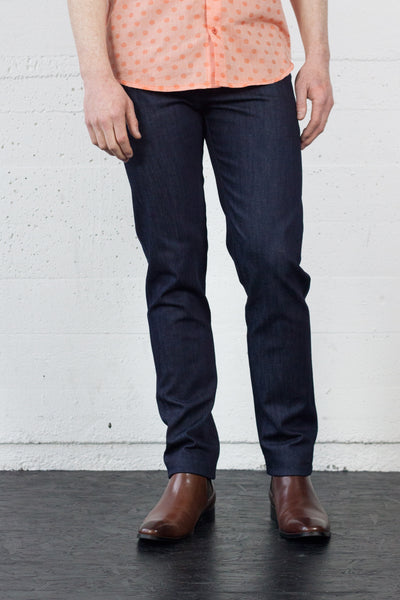 Roadster Jean Indian Ink
$295.00
The new killer jean has arrived - introducing our new Impala Jean. We've taken the leg to a more strighter line, and given them a new back pocket style. Made...
---
Size Guide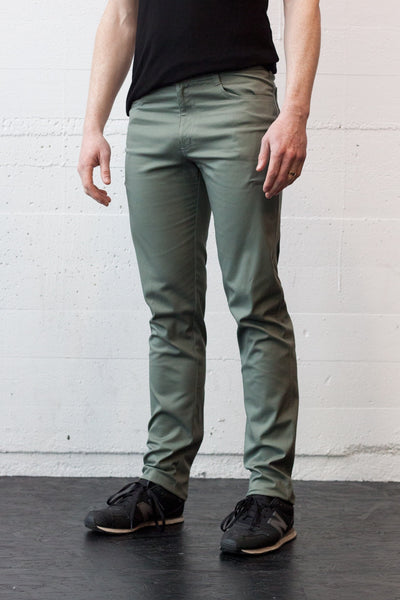 Impala SS Sage
$340.00
Our new Impala Jean: Updated fit through the hip, straight leg, and a new back pocket detail. Stretch denim, in a sage green. Quite light-weight to wear, and looking good...
---
Size Guide
Size Guide
The table below sets out garment sizes that correspond to each other and regularly fit together. Eg. A size Medium guy typically fits a 39 or 40 cm neck dress shirt, a 96 or 100 cm chest jkt, an 88cm dress/casual pant, and this will correspond to good brand jeans as 33 inch (there are a few dodgy sized 32" sold elsewhere these days confusing the issue!) 
Medium can be the hardest area to define as guys can be on the smaller or bigger side of this. Buying dress shirts; collars and neck sizes are absolute, but brands can vary in roominess, length etc. Please enquire, we stock a variety of brands and styles to cover shape and taste below the neck!
Our top sizes are considered to be good fair standard sizes and a Medium guy fits our medium casual shirts, tees and jackets generally without issue.
Our trouser sizes are true to measurements. Due to our extensive involvement in tailored wear where centimetres matter, we are not generous with our waists. Ease is added to allow for pants sitting low but neat. The table is a good guide to what is likely to work on a guy whose frame is fairly in proportion.
Massa Shoe sizing: 
or 6 weekly interest-free payments from $52.50 with
what's this?