Roadster Jean Indian Ink
$295.00
The new killer jean has arrived - introducing our new Impala Jean. We've taken the leg to a more strighter line, and given them a new back pocket style.
Made from a sturdy 9oz cotton stretch, they're so good you'll want to wear them all the time.
We are keen to help you get your purchase right first go.  Please send us a note when purchasing online if needing help to confirm the size. Custom Fit Available.
Designed and made in Wellington
Size Guide
---
Saab Shirt Rollsleeve Palm Springs
$285.00
Woven Linen. No expense spared in the production of this beautiful shirt, it is a stunner that you will have until you are old. Linen lasts and lasts. We are...
---
Size Guide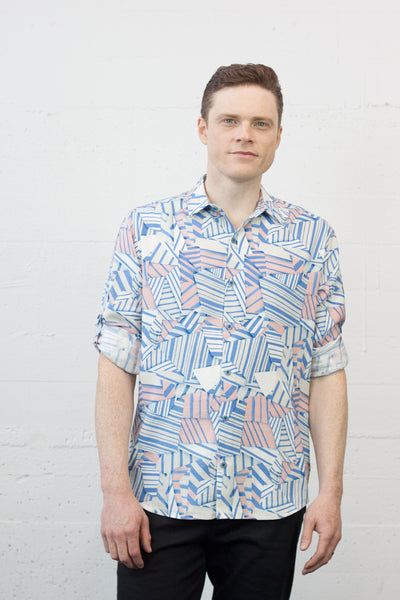 Honda Rollsleeve Viewfinder
$330.00
Korean Linen viscose, preshrunk. With a roll sleeve, these shirts exude easy summer vibes, being both a short-sleeved and long-sleeved design in one!  We are keen to help you get...
---
Size Guide
Crossroads Tee Artichoke
$179.00
100% cotton marle from Japan. These tees are true size. Many of you will have tops including this cut and the sizes correlate.  We are keen to help you get...
---
Size Guide
Size Guide
The table below sets out garment sizes that correspond to each other and regularly fit together. Eg. A size Medium guy typically fits a 39 or 40 cm neck dress shirt, a 96 or 100 cm chest jkt, an 88cm dress/casual pant, and this will correspond to good brand jeans as 33 inch (there are a few dodgy sized 32" sold elsewhere these days confusing the issue!) 
Medium can be the hardest area to define as guys can be on the smaller or bigger side of this. Buying dress shirts; collars and neck sizes are absolute, but brands can vary in roominess, length etc. Please enquire, we stock a variety of brands and styles to cover shape and taste below the neck!
Our top sizes are considered to be good fair standard sizes and a Medium guy fits our medium casual shirts, tees and jackets generally without issue.
Our trouser sizes are true to measurements. Due to our extensive involvement in tailored wear where centimetres matter, we are not generous with our waists. Ease is added to allow for pants sitting low but neat. The table is a good guide to what is likely to work on a guy whose frame is fairly in proportion.
Massa Shoe sizing: 
or 6 weekly interest-free payments from $49.16 with
what's this?