GIB Trou Olive Grove
$290.00
The slim-fit trousers come in a luxurious wool-stretch fabric in a rich Olive hue, making them the perfect companion for modern business ensembles. Side entry pockets, welt hip pockets with button closure, half-leg lining, and printed lining complete their elegant look.
Full suit also available here.
97% Wool, 3% Elastane
Size Guide
---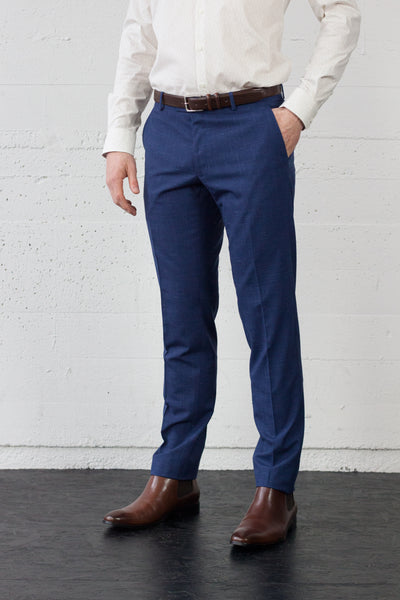 GIB Trou Lapis Blue
$290.00
  Luxuriate in the elevated style of the new season trouser, crafted from a mix of luxe wool silk and linen in a blue-tinted plain textured fabric ideal for the...
---
Size Guide
GIB Trouser Mahogany Check
$290.00
This season, Mahogany Check Trouser is sure to turn heads, with a vibrant mahogany base and sky windowpane check. Crafted from 100% wool and tailored with a blind stitched finished...
---
Size Guide
JB Trouser Chocolate Plaid
$390.00
A melange prince of wales check in brown and taupe with a tobacco brown overcheck. The slight brushed finish gives the jacket a winter look and feel. Made from 100%...
---
Size Guide
Size Guide
The table below sets out garment sizes that correspond to each other and regularly fit together. Eg. A size Medium guy typically fits a 39 or 40 cm neck dress shirt, a 96 or 100 cm chest jkt, an 88cm dress/casual pant, and this will correspond to good brand jeans as 33 inch (there are a few dodgy sized 32" sold elsewhere these days confusing the issue!) 
Medium can be the hardest area to define as guys can be on the smaller or bigger side of this. Buying dress shirts; collars and neck sizes are absolute, but brands can vary in roominess, length etc. Please enquire, we stock a variety of brands and styles to cover shape and taste below the neck!
Our top sizes are considered to be good fair standard sizes and a Medium guy fits our medium casual shirts, tees and jackets generally without issue.
Our trouser sizes are true to measurements. Due to our extensive involvement in tailored wear where centimetres matter, we are not generous with our waists. Ease is added to allow for pants sitting low but neat. The table is a good guide to what is likely to work on a guy whose frame is fairly in proportion.
Massa Shoe sizing: 
or 6 weekly interest-free payments from $48.33 with
what's this?