Black+White Sketch Blazer
$475.00
Fresh for winter, another stunning blazer to add some spark into your wardrobe. Donegal refers to the fabric woven from woollen spun yarns of uneven slubs, giving it's character of flecked texture. In this case, an Italian woven fabric of plum undertones and mixed flecks, this will work well with many outfits and colour combinations.
This blazer is fully lined, 2 patch pockets and double vented.
These blazers can fit slightly smaller than other brands we stock, if you need help with getting the best size for you please enquire.
Size Guide
---
Boston Blazer Moss
$520.00
Crafted with 100% merino wool, this moss green blazer is fashioned with a double vent and a two-button closure, with a fully lined interior for a polished look.  
---
Size Guide
JB Blazer Winter Hopsack
$750.00
A sophisticated blend of 50% wool, 40% cotton and 10% linen,  new winter season Hopsack Blazer, features a transeasonal tailored silhouette with a textured melange denim base and a dark...
---
Size Guide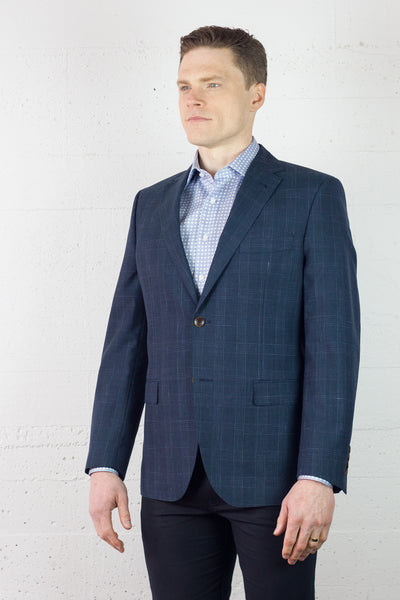 CAM Blazer Navy Blanket Check
$480.00
An inky base with a subtle textured stone overcheck fabric – the composition is 88% Australian merino wool and 12% linen – a fantastic summer jacket that can be worn...
---
Size Guide
Size Guide
The table below sets out garment sizes that correspond to each other and regularly fit together. Eg. A size Medium guy typically fits a 39 or 40 cm neck dress shirt, a 96 or 100 cm chest jkt, an 88cm dress/casual pant, and this will correspond to good brand jeans as 33 inch (there are a few dodgy sized 32" sold elsewhere these days confusing the issue!) 
Medium can be the hardest area to define as guys can be on the smaller or bigger side of this. Buying dress shirts; collars and neck sizes are absolute, but brands can vary in roominess, length etc. Please enquire, we stock a variety of brands and styles to cover shape and taste below the neck!
Our top sizes are considered to be good fair standard sizes and a Medium guy fits our medium casual shirts, tees and jackets generally without issue.
Our trouser sizes are true to measurements. Due to our extensive involvement in tailored wear where centimetres matter, we are not generous with our waists. Ease is added to allow for pants sitting low but neat. The table is a good guide to what is likely to work on a guy whose frame is fairly in proportion.
Massa Shoe sizing: 
or 6 weekly interest-free payments from $79.16 with
what's this?