Billboard Tote #2
Sold Out
Billboard Tote - made from our Mandatory billboard. #Recycle - Reuse - Reduce 
This tote is ideal for carrying everything that needs to stand upright - milk, wine, sweet chilli sauce, olive oil... and all your other shopping needs! Perfect for a trip to the supermarket after work, or buy a couple and do your weekly shop plastic free.
Made by Defender Bags - all the proceeds go to supporting migrant kids on the Thai/Burma border - it looks good and does great things!
Height: 40cm
Width: 10cm
Length: 40cm
 Please note each one is different due to the nature of the billboard.                                                                                                                                                                                        
---
Frequency Tee Crumple Stripe
$130.00
Our Frequency Tee a simple wardrobe staple. An easy tee shirt fit in a cotton blend with crumpled effect.   Designed and Made in Wellington, New Zealand.   
---
Size Guide
This is the Place Petrol
$50.00 $85.00
Every Summer - we do a limited run Mandatory print Tee for Christmas and beyond. Collab design between local artisit Nick Ray and Mandatory. Petrol Blue with coloured print, on AS Colour Tee....
---
Size Guide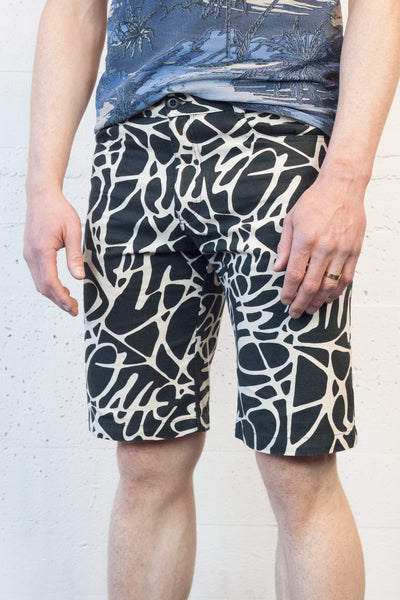 von Furst Grande Short
$270.00
Based on our new Impala Jeans, these summer shorts have all the trimmings of your fav jeans, uber comfortable with a longer leg than previous seasons. This fabric is straight out...
---
Size Guide
Size Guide
The table below sets out garment sizes that correspond to each other and regularly fit together. Eg. A size Medium guy typically fits a 39 or 40 cm neck dress shirt, a 96 or 100 cm chest jkt, an 88cm dress/casual pant, and this will correspond to good brand jeans as 33 inch (there are a few dodgy sized 32" sold elsewhere these days confusing the issue!) 
Medium can be the hardest area to define as guys can be on the smaller or bigger side of this. Buying dress shirts; collars and neck sizes are absolute, but brands can vary in roominess, length etc. Please enquire, we stock a variety of brands and styles to cover shape and taste below the neck!
Our top sizes are considered to be good fair standard sizes and a Medium guy fits our medium casual shirts, tees and jackets generally without issue.
Our trouser sizes are true to measurements. Due to our extensive involvement in tailored wear where centimetres matter, we are not generous with our waists. Ease is added to allow for pants sitting low but neat. The table is a good guide to what is likely to work on a guy whose frame is fairly in proportion.
Massa Shoe sizing: