Crossroads Banded Ice
$170.00
Made from a 100% cotton fabric, our Crossroads is an easy fit with banded hems and sleeves. Perfect for weekend casual with jeans, a true tran seasonal piece.

We are keen to help you get your purchase right first go.  Please send us a note when purchasing online if needing help to confirm the size.
Designed and Made in New Zealand
Size Guide
---
Hoodie Stone Rib
$225.00
100% cotton rib knit. There was only ever a small length of this fabric, very limited stock. But we're always keeping an eye out for more hoodie fabric - so...
---
Size Guide
Miltos Crew Longsleeve Gannet Grey
$179.00
The Miltos Crew is the perfect all-rounder knit for any outfit. Crafted with well-placed panel lines, a lightweight cotton blend, and subtle details, this long sleeve crew is ideal for...
---
Size Guide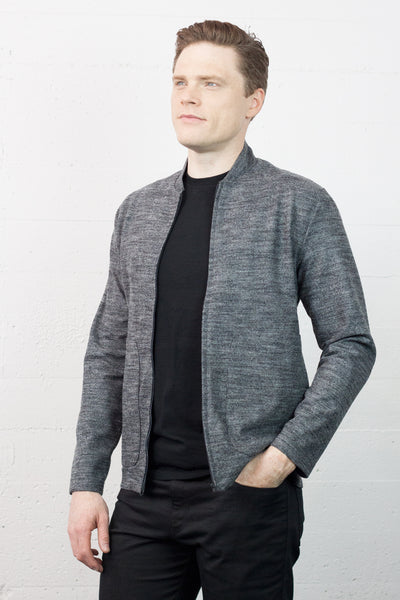 Dodge Jacket Brindle
$420.00
100 Merino Knit zip-up with pockets.  This has a dual purpose as a jacket or mid-layer under one of our cool coats.  Charcoal - goes with everything, the brindled knit...
---
Size Guide
Size Guide
The table below sets out garment sizes that correspond to each other and regularly fit together. Eg. A size Medium guy typically fits a 39 or 40 cm neck dress shirt, a 96 or 100 cm chest jkt, an 88cm dress/casual pant, and this will correspond to good brand jeans as 33 inch (there are a few dodgy sized 32" sold elsewhere these days confusing the issue!) 
Medium can be the hardest area to define as guys can be on the smaller or bigger side of this. Buying dress shirts; collars and neck sizes are absolute, but brands can vary in roominess, length etc. Please enquire, we stock a variety of brands and styles to cover shape and taste below the neck!
Our top sizes are considered to be good fair standard sizes and a Medium guy fits our medium casual shirts, tees and jackets generally without issue.
Our trouser sizes are true to measurements. Due to our extensive involvement in tailored wear where centimetres matter, we are not generous with our waists. Ease is added to allow for pants sitting low but neat. The table is a good guide to what is likely to work on a guy whose frame is fairly in proportion.
Massa Shoe sizing: 
or 6 weekly interest-free payments from $28.33 with
what's this?