We are very experienced in styling (producing/assembling) outfits to work with people's plans as Guests or Hosts for Weddings and Events. 
We have ways and means of making an appropriate personalised look that is both efficient and excellent. Our approach is to develop the idea first, not restrict it to what we have on hand. We hear your ideas, we have ready-made garments and accessories as concepts to consider, and we can head down the custom route as the plan requires specific fits or fabrics. Below are some reviews of personal suit consultations for weddings but we style for much more including events, awards, and personal updates. 
Please take a look and get in touch to discuss what you need.
Book an appointment here.
It was a pleasure to work with Clare to create a really unique, comfortable and fun wedding suit.  I came to Mandatory with a clear idea for my suit, and Clare and the team went above and beyond to bring the vision to fruition. Clare's fabric, styling and tailoring suggestions were amazing and came together in an exceptional outfit that exceeded all expectations I had when I first started thinking about my suit.  It made a special day even more wonderful.
The team at Mandatory made the whole process really relaxed and easy.  Clare is a master of her art and a joy to work with.
- Alec Duncan
Photographer: Paul Howell
Andrew's white outfit designed and made by: Annabelle Fitzgerald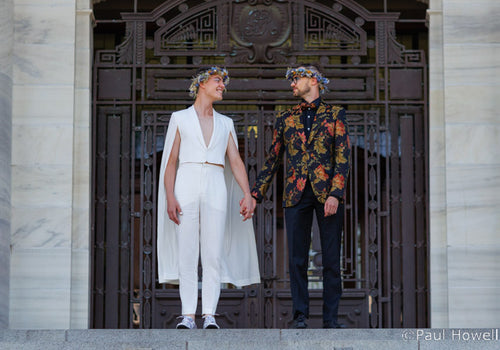 My wedding tuxedo looked sharp and was super comfortable to wear which gave me confidence all the way up to, and on my big day.Clare, Leah and the team brought our vision to life and my groomsmen (differently built brothers), looked equally dapper in their outfits.  We highly recommend Mandatory to anyone looking for quality, professionalism and expertise for your wedding suit or tuxedo. Working with Mandatory was a really enjoyable experience and the results were spectacular.
Photographer: Zara Staples
The team at Mandatory showcased an exceptional attention to detail and choice of fabric for our wedding, which beautifully amalgamated both our cultures. They crafted a stunning custom-made Mexican Guayabera Shirt along with perfectly tailored shirts and trousers for the groom's entourage. The entire wedding ensemble was harmoniously brought together, making the day even more special.
Photographer: Patina Photo
Our experience with Clare and the Mandatory team was absolutely first class. Even from the first consultation, we could tell we were in excellent hands. Whether it was initial concepts or detailed touches, the advice we got was top notch. Thanks again for helping us create our fairytale wedding.
Photographer: Katrina Cooke
"I absolutely loved working with Mandatory to create my wedding suit. Prior to finding Mandatory, I had a really difficult time finding a suit-maker or designer that catered for lesbian weddings. From the moment I stepped in the store through to picking the fabric, perfecting the fit, and finally walking away with my dream suit, the team at Mandatory were consummate professionals.
My partner and I had lots of mixed experiences dealing with the wedding industry as a same sex couple, my experience at Mandatory could not have been more positive in this regard. The team at Mandatory are experts of their craft so whether you are a man, woman, non-binary, or none of the above! They will work with you to ensure your suit is perfectly tailored for the
occasion and that you are comfortable throughout the process. "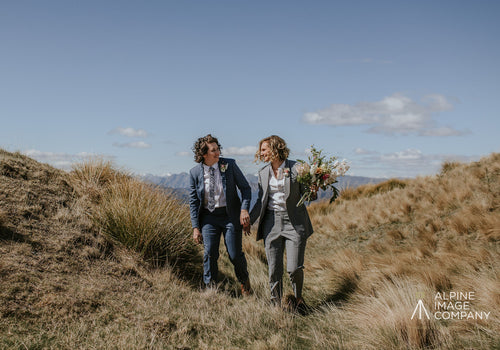 "I just want to say a special thank you to Mandatory for all the work and thought you put into getting my wedding outfit ready for myself and the four groomsmen. I am so glad that we chose to go with Mandatory and would definitely recommend you to anyone that is looking to get clothes for a special event. The quality of everything was exceptional and the fit was fantastic. Working with you was just an absolute joy and all the guys mentioned how great the whole process was".
Photographer; Billie Brook
Size Guide
The table below sets out garment sizes that correspond to each other and regularly fit together. Eg. A size Medium guy typically fits a 39 or 40 cm neck dress shirt, a 96 or 100 cm chest jkt, an 88cm dress/casual pant, and this will correspond to good brand jeans as 33 inch (there are a few dodgy sized 32" sold elsewhere these days confusing the issue!) 
Medium can be the hardest area to define as guys can be on the smaller or bigger side of this. Buying dress shirts; collars and neck sizes are absolute, but brands can vary in roominess, length etc. Please enquire, we stock a variety of brands and styles to cover shape and taste below the neck!
Our top sizes are considered to be good fair standard sizes and a Medium guy fits our medium casual shirts, tees and jackets generally without issue.
Our trouser sizes are true to measurements. Due to our extensive involvement in tailored wear where centimetres matter, we are not generous with our waists. Ease is added to allow for pants sitting low but neat. The table is a good guide to what is likely to work on a guy whose frame is fairly in proportion.
Massa Shoe sizing: