Headed to the Rugby World Cup? (or just wish you were?) Check in with local menswear, prep for their weather by shopping our all black edit now.
We've selected some of our best ideas for your trip to Japan: Lighter weight stretch denims and cottons for shorts, jeans and pants - Light Jackets -Tidy cotton knits - Linen shirts - Short sleeves and Essential skincare among the ideas below.
More in store. 
Tapered Taylor Jet
$200.00 $280.00
A Mandatory classic: the original slim leg cut, smart-casual trouser. Angled pockets allow for these pants to be dressed up, shirts worn tucked in or out for work. Equally good...
---
Size Guide
B&L Knit V Neck Black
Sold Out $285.00
Australian Merino & cashmere blend V Neck knit jumper.  Limited sizes available, Trying on is highly recommended before purchase.
---
Humber Jean Deep Black
$270.00 $340.00
Our jeans are a great cut with different leg shapes and pocket detail. Valiant Jeans have a straight leg and a regular jean patch pocket with our signature tidy welt detail...
---
Size Guide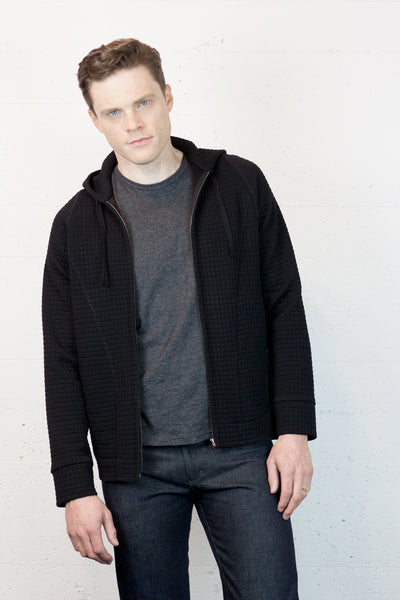 Mustang Hoodie Black Texture
Sold Out
Grid textured poly/viscose blend Hoodie with panels and hem shaping. Front pockets and 2-way zip with drawstrings. Designed and Made in Wellington, New Zealand. Limited Edition. Trying on is highly...
---
Size Guide
The table below sets out garment sizes that correspond to each other and regularly fit together. Eg. A size Medium guy typically fits a 39 or 40 cm neck dress shirt, a 96 or 100 cm chest jkt, an 88cm dress/casual pant, and this will correspond to good brand jeans as 33 inch (there are a few dodgy sized 32" sold elsewhere these days confusing the issue!) 
Medium can be the hardest area to define as guys can be on the smaller or bigger side of this. Buying dress shirts; collars and neck sizes are absolute, but brands can vary in roominess, length etc. Please enquire, we stock a variety of brands and styles to cover shape and taste below the neck!
Our top sizes are considered to be good fair standard sizes and a Medium guy fits our medium casual shirts, tees and jackets generally without issue.
Our trouser sizes are true to measurements. Due to our extensive involvement in tailored wear where centimetres matter, we are not generous with our waists. Ease is added to allow for pants sitting low but neat. The table is a good guide to what is likely to work on a guy whose frame is fairly in proportion.
Massa Shoe sizing: